By Michael J. Smith on Thursday September 7, 2006 02:43 PM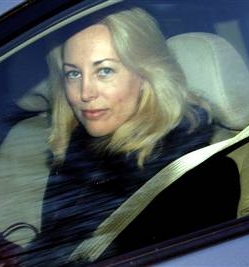 David Corn of
The Nation
is
still in there slugging
for the admittedly luscious Valerie Plame. I hope he got to interview her, at length. Perhaps that explains the breathless tone in which the mag is blurbing his latest:
Valerie Plame was no mere analyst or paper-pusher at the CIA, David Corn writes, in an article based on his new book, Hubris. She was an operations officer working on a top priority of the Bush Administration: searching out intelligence on Iraq's weapons of mass destruction. By revealing her identity, Richard Armitage, Karl Rove and Scooter Libby harmed her career and put vital intelligence at risk. http://lists.thenation.com/t?ctl=6293:6E467
Corn's piece in The Nation depicts Valerie working tirelessly to turn up evidence of Iraqi WMD's, from a bunker somewhere; apparently she was in charge of the "operational" side of a whole task force dedicated to that purpose. What nefarities that bland word "operational" may conceal I prefer not to think; I would rather imagine Valerie in a more sympathetic setting. On a beach, say, wearing a... well. Never mind.
Some of her previous work for the Agency doesn't sound much better, alas, and there's no mention of a beach anywhere. For example:
... she was posted to Athens and posed as a State Department employee. Her job was to spot and recruit agents for the agency. In the early 1990s, she became what's known as a nonofficial cover officer. NOCs are the most clandestine of the CIA's frontline officers. They do not pretend to work for the US government; they do not have the protection of diplomatic immunity. They might claim to be a businessperson. She told people she was with an energy firm. Her main mission remained the same: to gather agents for the CIA.
Why liberals like Corn have embraced this woman -- politically, I mean -- is difficult for me to understand. Surely the right response to Rove & Co. "outing" her is something like: "Thieves fall out. Har de har."
I don't know about David, but to my eye, the initials CIA form one of the most sinister acronyms on the planet. It gives me the creeps just to type it. The organization Valerie Plame joined, and worked for zealously, is, all in all, one of the most bloodstained and brutal criminal enterprises still in existence. Are we supposed to forget that, for the sake of Valerie's knowing eyes and generous mouth?
Don't answer that question.