By Michael J. Smith on Monday January 29, 2007 10:34 PM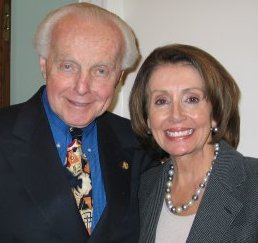 From Nancy's hometown newspaper:
CONFLICT IN IRAQ
Pelosi's trip: She believes more strongly that withdrawal will help region, says troops deserve better policies than president's

(01-29) 04:00 PST Washington -- Three days in Iraq, Pakistan and Afghanistan have made House Speaker Nancy Pelosi even more certain of her view that moving troops out of Iraq is the best way to bring stability to the region, she told The Chronicle on Sunday....

Pelosi's visit comes as Congress readies a resolution opposing Bush's plan for new troops to Iraq....

A clear majority of senators oppose the president's troop increase, although competing resolutions and a filibuster threat make vote counts difficult. Senate Foreign Relations Committee Chairman Joseph Biden, D-Del., predicted Sunday that fewer than 20 senators -- not even half of the 49 Republicans -- would be willing to voice support for Bush's plan.....

Lantos reiterated Pelosi's opposition to Bush's war plans.

"What we saw and heard in Baghdad leaves me even more convinced than before that the administration's 'stay the course' approach will only lead us deeper into disaster,'' Lantos said. "Placing more troops in harm's way in order to shore up a failed policy is unconscionably reckless and only compounds the mistakes already made.''
Lantos is opposing the "surge"? Has Nancy cracked the whip and brought him to heel? Has Lucy got the Injun sign over the Count?
Alas, no. Lantos' acquiescence gives the game away -- nobody, not even the Israel lobby, is serious about the "surge". Defeating this non-initiative is, as Owen's brother pointed out here some time ago, a way to present the status quo as victory. I think we can all write the history of the next few weeks.
Note, too, the now-obligatory "harm's way" trope. Wake me up when somebody says we shouldn't be putting people in Harman's way.