By Michael J. Smith on Saturday July 26, 2008 10:37 PM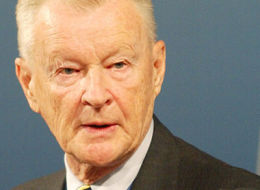 Am I the only one who thought Zbigniew Brzezinski was dead years ago? (Wishful thinking, I know.) Now he seems to be in the news every day:
All of a sudden, everyone seems to be in favor of sending more troops to Afghanistan... as Barack Obama encourages Europeans to dispatch more NATO forces.... But Dr. Zbigniew Brzezinski is not on board -- though it's not the first time President Jimmy Carter's national security adviser has cast a skeptic's eye on the usefulness of dispatching great numbers of troops to the country. In an [in]famous 1998 interview with France's Le Nouvel Observateur, Brzezinski admitted his own role in funding Afghanistan's Mujahadeen in 1979, thereby "increasing the probability" that the Soviets would invade a tough, demoralizing, mountainous theater for combat.

And it's with a similar perspective that Brzezinski now doubts the that the answer to what ails Afghanistan is more troops. "I think we're literally running the risk of unintentionally doing what the Russians did...."

However, Brzezinski noted that just as the Soviets were able to delude themselves that they had a loyal army of communist-sympathizers who would transform the country, the U.S.-led forces may now be making similar mistakes....

Brzezinski, who has endorsed Obama, was far more critical of a few figures now surrounding McCain....

"Well, if McCain is president and if his Secretary of State is Joe Lieberman and his Secretary of Defense is [Rudolph] Giuliani, we will be moving towards... World War IV... If it's [Richard] Armitage, or if it were to be Brent Scowcroft, I think it would be very different."....

"Republicans move toward neocon-ish formulas, and Democrats [follow] idealistically escapist formulas. In either case you don't end up with the necessary mix of idealism and realism."
Man wants a job, doesn't he? And what a resume: Hire the guy who got us into this mess to get us out.