Non-story about a non-event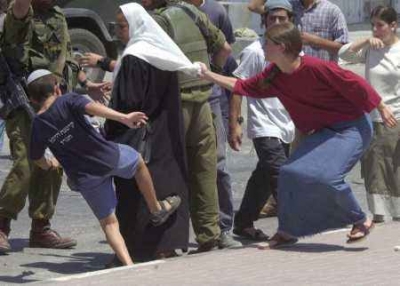 Shown above, a little Light Unto The Nations action, somewhere on the West Bank (aka Judea and Samaria).
Ah, the gathering storm. To hear Politico tell it, the Israel lobby and its bought legislators are really concerned that Obama might get off the reservation:
Obama faces growing pressure on Israel

As President Barack Obama prepares to depart for his first trip to the Arab world, the administration's escalating pressure on Israel to freeze all growth of its settlements on Palestinian land has begun to stir concern among Israel's numerous allies in both parties on Capitol Hill.

[But]the rhetoric, even from Obama's critics, remains relatively sedate compared with the open insurrection other presidents, from Carter to the elder Bush, have triggered with attempts to apply direct pressure on Israel.
The whole item is worth reading if you're interested in the process by which "news" is fabricated on a slow day.
Obama hasn't said or done anything yet that might actually cause the slightest alarm to the Ultras in Israel and its lobby here at home. There isn't any "escalating pressure". There isn't any pressure at all. Obama has repeated the standard pieties about Israeli settlements uttered by every American president since 1967, without the least attempt to look like he means it.
The "defense" being mobilized by the Lobby and its multitudinous congressional mouthpieces is -- as usual with Israel and anything connected to it -- an offense. Buried in paragraph 23 of the Politico story is this gem:
[Florida Democratic congressman Robert] Wexler, an early Obama ally and a staunch defender of his Middle East policy, said in his view, the settlement freeze should apply only to settlements outside Israel's security fence, or wall, and should exclude territory that appears likely to ultimately remain part of Israel.
The goal, obviously, is to get Obama to back down even from the standard hypocritical legalisms about settlements and acknowledge explicitly that the apartheid wall will be the border of any Palestinian Bantustan that may ever come into being -- at least until the Israelis see fit to move the goalpost yet again. The tactic is a contrived indignation about Obie's supposed "pressure" on our dear little plucky ally, The Only Democracy In The Middle East™.
There's also some wonderful tortured casuistry in this story about the "natural increase" in settlements -- as opposed to "expansion". For some reason this makes me think of Ezra Pound's ideas about usury.