By Michael J. Smith on Thursday March 18, 2010 08:15 AM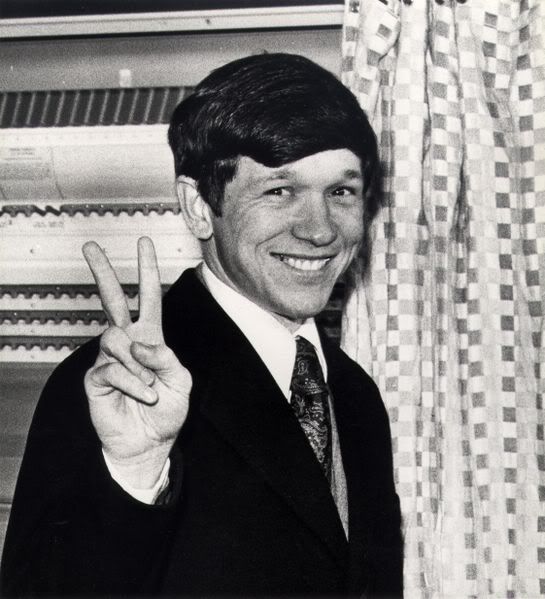 Okay, confession time. I've always had a sneaking fondness for Dennis Kucinich, ever since his madcap days as the boy mayor of Cleveland, when he made the "business community" so hot under the collar that they started to exhibit random quantum effects, winking in and out of existence and leaving half-dead cats strewn in the streets.
Oh, I always knew better. I mean, the guy's a Democrat. Doesn't even try to hide it. But I couldn't help myself. It was my dirty secret.
So it's a relief to see the "maverick" neatly lasso'd by Rahm Emanuel & Co., and meekly proclaiming his support for the Great Insurance Company Pig Trough, aka "health reform":
Mr. Kucinich said he would keep working for a government-financed single-payer health care system. But after coming under intense pressure, which included a visit to his district on Monday by Mr. Obama, Mr. Kucinich said he did not want his objections to stand in the way of the legislation.

"If my vote is to be counted, let it count now for passage of the bill, hopefully in the direction of comprehensive health care reform," Mr. Kucinich said.... "We have to be very careful that the potential of President Obama's presidency not be destroyed by this debate."
Perfect, huh? The "potential" of the Obama administration. At need, Dennis will give you a pony IOU as readily as any other soup-hound in his "party".
I was so cheered by this gratifying news, so glad to have this discreditable little monkey off my back, that I felt up to a quick tour through the pwoggo blovosphere. Here's a representative take from Kos -- literally the first post on this subject that my eyes lit upon in the orange bog:
Kucinich and ... Michael Moore have, by their own words, taken one for the president.... both plainly say it should be passed because of their desire to see President Obama's presidency succeed....

Try to let that sink in. They want the right-wing attempts to delegitimize [Obie] to fail. They do not think this bill is real reform (the word "detest" comes into play), but will support it anyways. I respect both men and absolutely take them at their own words.

Kucinich conceded that he decided to swallow the bill because failure would be a threat to Obama's overall agenda. Moore said, "Pass it because, if President Obama takes a fall on this one, I don't know if he'll be able to get back up. And then NOTHING will get done. We can't have that."
Much material for reflection here. Of course the first thing that comes to my mind is C Wright Mills' astute observation about
crackpot realists
, much-quoted hereabouts. We might paraphrase MIlls slightly and say that hard-line dead-end Democrat fanboyz like Moore and our Kosnik still believe that Obama's "success" means something, though they don't know or can't admit
what
it means -- which is, of course, endless war, panoptic security-state totalitarianism, further immiseration for the general public and further illucration for the already obscenely wealthy few.
A gloomy picture. But there are some grace notes of low comedy that you can always rely on; like the preposterous macho rhetoric these Dembo weenies love so much, which becomes ever more more purple in direct proportion to the hapless abjection and cringing slavishness of their politics. "Take one for the president," forsooth!