By Michael J. Smith on Saturday September 11, 2010 11:04 AM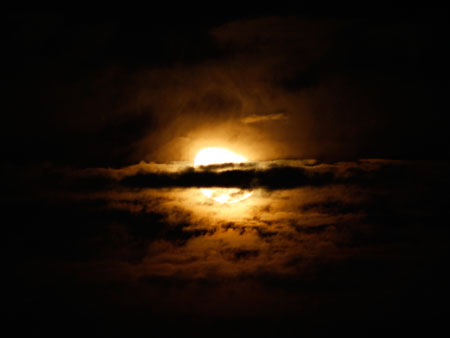 Yesterday evening I happened to be sitting on a rather pleasant roof terrace -- not my own, alas -- down in the Village, with a glass of Lambrusco in hand (whaddya expect, it's the Village).
The sky was heavily overcast with dark turbulent clouds, and as darkness gathered I happened to glance downtown to see a sinister glow emanating from the thick ceiling, as if there were something big on fire about two thousand feet up. Too bright for the moon, and the lurid brassy color was all wrong, and the moon wasn't in that part of the sky at that hour anyway. Quite alarming. A vast meteorite, heading straight toward me and thus apparently unmoving? A blimp disaster? Some new surveillance platform just parked above Manhattan, to keep an eye in the sky on all of us, and perhaps display Nike or Ipad ads for good measure?
I finally figured it out. They were gearing up for the annual civic liturgy of Ninelevenism, with the inevitable searchlights outlining the former towers, like the titanic thuggish ghosts of Nelson and David Rockefeller, a spectral Gog and Magog looming above our hapless island in death as they did in life:
(Outof-towners may not be aware that the hideously ugly Twin Towers were familiarly referred to by many of us as Nelson and David, in honor of the brothers from the Rockefeller crime family who were largely responsible for foisting them upon us. )
This particular decorative technique was, of course, invented by Albert Speer:
... which seems quite perfect, somehow.
Lots of people seem to find this spectacle ethereal, poetic, elegiac, delicate, etc. I don't. I find it intensely creepy. Partly no doubt this is because of the Speer connection, but not entirely.
Let's start with the searchlights. What are searchlights for? Spotting escaped inmates scurrying across the free-fire zone around a prison. Shooting down airplanes that are on their way to bomb us. Part of the iconography, in other words, of incarceration and embattlement.
Then there's the abstract geometry. The ghost buildings are supposed to commemorate actual buildings -- things made of physical matter, things which have to take account of physical weight and mass if they're not to fall down, as we do in our corporeal bodies.
Now one of the nastiest things about the actual towers, while they were standing, was precisely that vulgar-modernist refusal to acknowledge gravity and weight in their architectural iconography: the third floor looked just like the ninety-third. As if you could defy allometry and scale a milk carton up to Brodingnagian dimensions.
But the ghost buildings take this vulgarity a big step farther. They are made of photons, which don't notice gravity to any extent that we can readily observe. So the spook towers don't even have to resort to the secret subterfuges and hidden corsets that Yamasaki provided beneath Nelson and David's stolid outer garments. There's a kind of bargain-basement heaven-stormingness about the virtual skyscrapers, as if we had finally built the Tower of Babel -- built two for the price of one, in fact -- but done it on the cheap and on the cheat.
It's rude to shine a flashlight in somebody's face. Whether or not you believe that anybody dwells in the heavens, the sky itself is surely entitled to at least that much respect. Projecting a brummagem simulation of two of the ugliest buildings ever built all the way into the Empyrean is the act of an interplanetary polluter.
But I guess this is the kind of dissociated cheap hubris that comes from being Top Country for the moment. We commemorate a humiliating defeat by making something insubstantial Stand Tall, while all us actual physical human beings cower under the guns of our own police.