By Michael J. Smith on Wednesday June 6, 2012 08:44 PM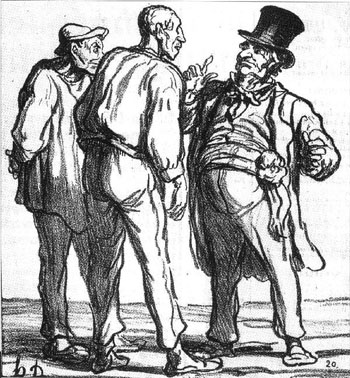 M'sieu l'Maire, quoi donc que c'est qu'un bibiscite ?
- C'est un mot latin qui veut dire oui. (*)
Doug Henwood had some good things to say about the (entirely predictable) Wisconsin debacle:
.... the horrible mistake of channelling a popular uprising into electoral politics.... It's the same damn story over and over. The state AFL-CIO chooses litigation and electoral politics over popular action, which dissolves everything into mush.
It did seem kind of amazing that they ran somebody against Walker who had
already lost to him
. But isn't that the Democrats for you in a nutshell? The graveyard of activism, as a pal of mine calls the dear old Donkle.
Here's a bit more of old Daumier on the electoral process: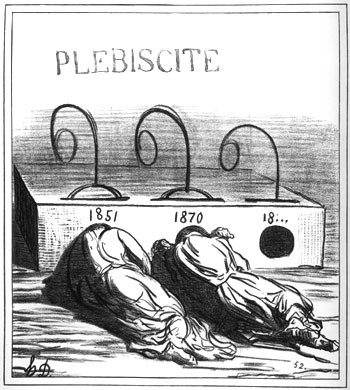 The machine may be unfamiliar: it's a kind of old-fashioned mousetrap, a guillotine or garrote in reverse.
---------------
(*) Mistah Mayah, so what's this blebiscite thing?
-- It's a Latin word that means 'yes'.