Owen closes the iron door
[Editor's note: This post has been somewhat overtaken by events, but a mea culpa from Owen is always worth reading.]
Behold the dueling Ivorian presidents!
It's a fine thing about providential outcomes, just when you 've made a giant shameless pinko Jimmy Swaggart of a ham out of yourself, as I did over the recent revoltin' developments in that battered Gallican stepchild of a country, Côte d'Ivoire. That hyped-up purple passion flourish no sooner having been typed and posted, don't a big fat fried egg get itself loosed toward my face? Facts on the ground conspired to frame me as a Chicken Little. Kool worldly sardonic me!
The evolving scene there, far from running blood like one of those Neapolitan saint's-day parades, has taken -- glory to Allah and the Fates -- a marvelously mock-epic turn. 'President yesterday' is holding out in his palace bunker, along with his wonderful French-despising wife vowing never to surrender thesupreme national office; while his rival "president tomorrow" is lying about in languid ineffectuality, holding moot court in an uptown western-built luxury hotel. All this even as the bulk of the residents of great city of Abinormal go without water or electricity or... civil governance!
Now we all know our cruise missile humanists care about every hair on every head on that darkest of dark corners of our planet -- so they must be relieved that the nonstop twopenny theatre of alternating slapstick and brutal cruelty down there has taken a turn toward the slapstick and away from the cruelty.
How do this pair of Dueling Presidents rate against the top performers from the continent? Not very high, I fear; not yet, at least. Why, Bokassa ate his rivals; Mobutu did every thing else but 'eat em, and by the freightcar load. Then there's the Tutsi business and the Congo and..yes of course there's the great paratrooping generalissimo Idi Anemin, one of Israel's many gifts to the world.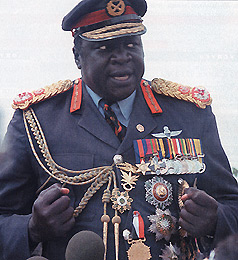 Only one such titan as he could possibly pass this way in my lifetime. But even that ultimo miles-gloriosus with his unreachable summits of deadly hilarity has rivals trying to best him, practically 24/7.
The collective project in post-colonial statecraft seems to be aimed at proving definitively that terror-state buffonery, African style, can beat anyplace else on earth. The continent's crimes against humanity are so richly textured with outlandishly bizzare crazy quiltings that the whole place seems to exist only to provoke us sivilized 'one world' folks into an apoplexy of the broadest possible whalebone-sized volleys of gasping horror, and fainting spells that would shake the resolve of W C Fields.
And talk about complex and contradictory -- often the very same players, even in the very same acts, can trick out the biggest guffaws imaginable from the Homer Simpsons and Don Cherrys of North America. I see them spewing back at the TV their last swallow of beer or munch of corn chips as one of these dreadnaughts is shown cavorting about like a circus elephant.
Now before you send the Red Guards over to hack me up, I'll ask this exculpatory rhetorical question:
Can any of this be real? I mean: can black Africa really be anything like this? Can't be, surely? Who the hell knows what really goes down there? The media confection must be the empire's... right? The most effective pro-imperial morality play we got.
Needless to say, in this day and age, if the top guys in Washington and Wall Street wanna get stuff across, I mean really across, they gotta go comic strip, whether it's to turn a sow's ear into a sunny day, or convert some ghastly charnel-house spree into playful tomfoolery.
"Africa", by the time we get it, is a TV show.
Readers, I pledge, starting today, I will refrain from any further outbursts of deep feeling and lacrymose agonizing about long-suffering Africa. I will never again break into a sanctimonious hollow threnody over the latest gargantuan gore-soaked pratfall or mind-rattling slaughterfest reported on from the cradle of humanity.
I leave that region entirely to -- who else -- the greatest spotlight-stealing Pecksniff of our time... Jeffrey Sachs.