By Owen Paine on Wednesday November 11, 2009 05:38 PM
The squalid compost heap labeled "healthcare reform" by a peacock-proud Nanikins, the popeyed dominatrix of the House, has provoked a lot of harsh stuff -- but an especially beautiful piece of pink hysteria is over there at Counterpunch, written by one Jay Fred Murphy. Tidbits:
"The Democrat Congress gave us a corporate driven healthcare bill which amounts to nothing more than a de facto bailout of the healthcare insurance companies.... Imagine promising the poor and desperate people of this country healthcare reform and passing legislation which will not only hurt the working class but strengthen the very forces which oppose real reform – the healthcare insurance companies... spread misery on national level [and] destroy any possibility for meaningful healthcare reform for the next 40 years."
Yup, 40 years. That's quite a lede, eh? Darn near -- biblical.
And the man can wander off topic pretty fair, too. He gives us a marvelous detour back in time through the Clinton wallow -- it's quite a Mr Toad's wild ride -- before we get down to an account of some of the highlights of this house bill of abominations, which
"... will not only drive up insurance costs but will not even permit the government to negotiate with pharmaceutical companies, thereby driving up pharmaceutical costs as well! ... Americans will now be forced to buy health care plans from private insurance corporations. Forced! ... What a choice: buy insurance coverage or pay a penalty of hundreds or even thousands of dollars per family if they decide to forgo insurance"

"A little arithmetic... Imagine a family at roughly 300% of poverty -- around $55,000 a year. It will cost them in the neighborhood of $15,000 in taxes, $14,000 in mortgage or rent; close to $20,000 on childcare and they'll need around $7,000 for food. That puts them in debt already! Now they will be forced to buy health care... forced! Under penalty of law! Even with government subsidies they will still be in debt!"
"Forced", quaking citizens! "Forced!" And guess what: to top it off,
"The Senate version of health care reform is even more draconian than the House version."
Surprise, surprise.
But enough of this self-indulgent delighting. The reason I posted this lies elsewhere. See, ah -- well -- the piece actually stars none other than Father Smith's wrestling partner, and the nation's prima ballerina of the center aisle, nutmeg senator Joe Joementum Liebfraumilch.
"The real hero of this tragedy [is] Joe Lieberman [who] promises to join a Republican filibuster!"
... and thereby kill the bill saving us all from those 40 years of a greater hell.
"While it is never morally acceptable to do something wrong even for a good reason (the ends never justify the means), it is always morally acceptable to do something right even for the wrong reasons!"
Example please:
"Lincoln -- did not free the slaves because it was the morally correct thing to do. He did it for political reasons but nevertheless he did do it and it was the right thing to do."
Yes sir, that it was -- that it was.
The highly moral moral:
"We may not like Joe Lieberman and Max Baucus but ironically we may be in their debt if they are successful in preventing this very dangerous piece of legislation."
Mr Toad, slide over -- there's a new top driver in town.
Even Dennis K gets a look and a pause to consider, well, the very topos of this blog: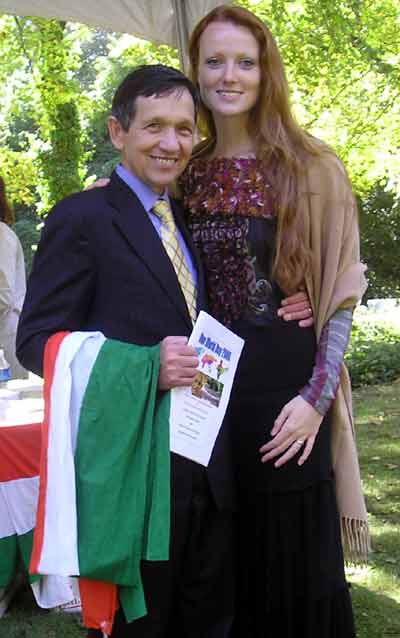 "Perhaps Kucinich does more harm than good by remaining in such a party. By remaining a Democrat he legitimizes the actions he opposes and keeps millions of well intended people from forming a truly progressive opposition party believing the myth that the Democrat Party can be changed from within."
Out of the mouth of Mr Toad...