By Michael J. Smith on Wednesday November 26, 2008 08:29 PM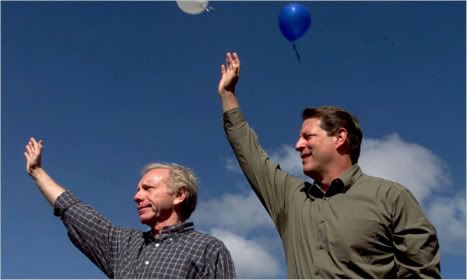 La Huffington, Inc., reports:
Connecticut Sen. Joe Lieberman [says] Barack Obama's actions since winning the presidency have been "just about perfect."

"Everything that President-elect Obama has done since election night has been just about perfect, both in terms of a tone and also in terms of the strength of the names that have either been announced or are being discussed to fill his administration," Lieberman said during a visit to Hartford.

... Lieberman said he believes the rift between himself and the party stemmed mainly from his support of President Bush's policy in Iraq and will close as that becomes less of an issue.

"It appears to me that the war in Iraq is coming to a successful -- I don't want to say conclusion yet, but it's moving in a way that it will not be a divisive issue either in the Democratic Party or between Democrats and Republicans in the time ahead," Lieberman said. "And therefore, I think we'll return to more normal times, which I welcome."
Joe's no fool. He loves the Iraq war like his firstborn son. When he says that the war "won't be a divisive issue," you can take that to the bank.
"Normal times" indeed -- the Democrats are only anti-war when they're in opposition.
If then.