By Michael J. Smith on Thursday April 9, 2009 12:53 PM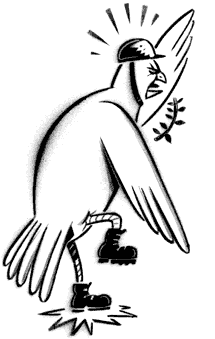 Call me squishy-soft on libertarians, but I like Justin Raimondo's stuff at antiwar.com. He has a fine piece there now about Pwog bomb-droppers, particularly the Center for American Progress (CAP), recently excoriated here.
Raimondo writes:
As President Barack Obama launches a military effort that promises to dwarf the Bush administration's Iraqi adventure in scope and intensity, the "progressive" community is rallying around their commander in chief as obediently and reflexively as the neocon-dominated GOP did when we invaded Iraq. As John Stauber points out over at the Center for Media and Democracy Web site, the takeover of the antiwar movement by the Obamaites is nearly complete. He cites MoveOn.org as a prime but not sole example:

"MoveOn built its list by organizing vigils and ads for peace and by then supporting Obama for president; today it operates as a full-time cheerleader supporting Obama's policy agenda....

Peace Action is... confining their opposition to an online petition. As for UFPJ, their alleged opposition to Obama's war is couched in all kinds of contingencies and ambiguous formulations. Their most recent public pronouncement, calling for local actions against the Af-Pak offensive, praises Obama for "good statements on increasing diplomacy and economic aid to Afghanistan and Pakistan."

...I am truly at a loss to describe, in suitably pungent terms, the contempt in which I hold the "progressive" wing of the War Party, which is now enjoying its moment in the sun. These people have no principles: it's all about power at the court of King Obama, and these court policy wonks are good for nothing but apologias for the king's wars.

(Raimondo also takes a gratifying pot-shot at the good old CPUSA, the Pet Sematary of the Democratic Party. This is a teaser to get you to go read the whole thing.)
The Nation magazine recently gave a platform to Lawrence Korb, of the CAP, to make the humanitarian case for raining high explosives on the turbaned heads of Afghanis and selected Paks. Korb's case is (as usual) long on assertion and short on argument; what it comes down to is that it should be obvious that we've got to undertake a ten-year crusade in Afghanistan, and if you can't see it, you must be a mere knee-jerk war-hater:
A Responsible Afghan Strategy
By Lawrence J. Korb & Sean E. Duggan

If the United States ever wishes to leave Afghanistan, it requires a sustained engagement using all elements of national power--military, economic and diplomatic.....
If you want to leave -- you've got to stay! Suppose we said we wanted to stay. Would we then get to leave?
Afghanistan is not Iraq. Unlike the war in Iraq, which was always a war of choice, Afghanistan was and still is a war of necessity.
Necessary? Because why? Why, because...
[W]e have been warning of the consequences of the chronic and unacceptable neglect of the war in Afghanistan since 2005 .... Al Qaeda and its affiliates have regained a strategic safe haven within Afghanistan and Pakistan..... [A] failed Afghanistan would threaten the stability of Pakistan and the region.... Afghanistan's opium revenues fund regional and international terrorists.
Failed states, international terrorism, and "stabilizing" Pakistan [*cue sour laugh on sound track*] -- can anybody detect even a shift of emphasis or vocabulary or tone or anything at all from the propaganda line of the last eight years (or twenty, if it comes to that)? The only shift I can see is that a different set of turbans will be getting the bulk of the high explosive.
As for Pakistan, it seems crystal clear that "stabilization" is not the goal. If anything, I think I may detect an Indo-Israeli nutcracker at work on that hapless land, by way of supplement to the unending and invariant Great Game.
Here's my favorite bit, Korb's peroration:
Many wrongly assert that the progressive community is instinctively against all wars. This assertion is both wrong and dangerous. In the words of President Obama, we are not against all wars, just dumb wars.
Anything that comes with a "smart" label, of course, is guaranteed to appeal to merit-class bright sparks.
Of course Korb is quite right that the "progressive community" is not anti-war. Au contraire, the "progressive community" has a long record of cheerleading for wars, always with the best and most noble of motives. This is one reason among many why the term "progressive" makes my skin crawl.
I do wonder why he think's it's "dangerous" to impugn the Pwogs' thirst for blood, though. Dangerous to whom?