By Al Schumann on Tuesday March 16, 2010 01:09 AM
I'm almost embarrassed for John Cassidy, but the loathsome spectacle he's joined puts him well past any such concern.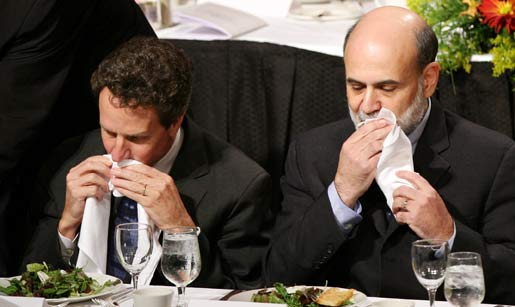 The big banks remain able to open their doors only because Geithner and Bernanke keep them on life support. They are not healthy. They are not solvent. They are utterly dependent on the heroic book fiddling of the Fed's and Treasury's yuppie Stakhanovites. What's more, they're still playing the same games that got them into code orange panic. Only the most severely delusional pretend otherwise. Even the banksters aren't kidding themselves, and that really says something. Cassidy's adulation—oh the sordidness of it all!— Tim Geithner... It might be possible to find someone more loathsome, but I honestly have no idea where to begin looking.