I used to work, years ago, down by Battery Park. On pleasant days I'd get a sandwich for lunch and go sit on a bench there to eat it.
In those times — the late 70s — it was your usual seedy New York park, tired parched grass interspersed with patches of bare dirt, and guys selling loose joints, and fetching Italian keypunch chicks taking in a bit of sun. I well remember the Summer Of Horizontal Stripes, when lycra was still a new thing.
There were a couple of war memorials in the park then. One rather grand one consisted of a double row of big stone monoliths, with the names of all the Navy men and (I think) merchant seamen lost at sea during World War Two inscribed on them. It was rather stodgy in design — very Fifties — and featured a most unfortunate nasty-looking eagle, if memory serves, hunkered down in a resentful pose at the end of the aisle. But at least it had the virtue of sobriety and restraint, and all the names after names gave one food for thought. And then too the axis of the aisle was unobtrusively aligned on the statue of liberty across the harbor. There was nothing to point this out, or beat you over the head with it. After a few lunchtimes there, you noticed. As war memorials go, not bad. Not as good as this one, below, but not bad: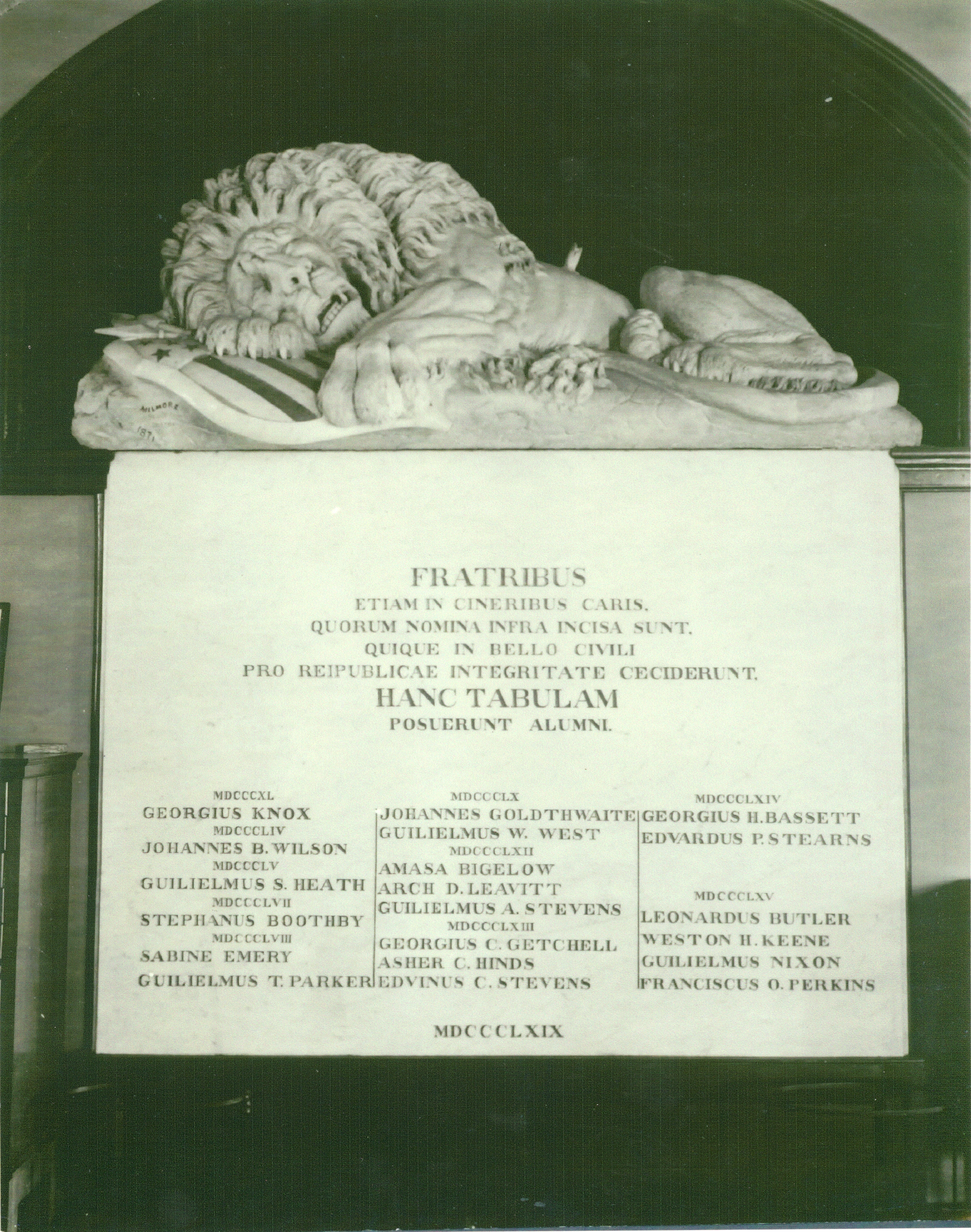 The lion — a copy, apparently, of one in Lucerne — used to occupy a place of honor in Colby College's Memorial Hall. Now it's in a sterile undistinguished space in the basement of the library, which seems a bit of a comedown. But it's still pretty impressive.
Since my days of lunching (and ogling Italian girls) in Battery Park, some other monumwents have been added. There's one to the merchant mariners of WWII, a very lugubrious affair, showing three big bronze guys on what appears to be a sinking bronze deck, and the hand of a fourth bronze guy, clearly a goner, reaching up out of the water. The hand is all you see of this fourth guy. He appears to know the answer to the last question Teacher will ever pose him. Ask me! Ask me! Before it's too late!
There is a tablet nearby which notes that the sculpture group is based on a photo of sailors on a bit of wreckage from a torpedoed ship. The tablet also records, with a strange note of grim lip-smacking relish, that the sailors in question were not rescued, and subsequently went down with their vessel.
There is a monument to the Norwegian merchant marine, also during world war II. This consists of a roundish stone sitting on top of a flattish stone. Enigmatic people, those Norwegians. But one is glad for a respite from bronze.
And then there is the monstrosity shown up top. This is the Korean War memorial. Dunno if you can see the inscription; it reads, THE UNIVERSAL SOLDIER. There are earnest little national flags, picked out in clumsy childish mosaic, surrounding the base. I assume these were the various "allies" in the Police Action.
Questions crowd to mind. Who on earth came up with this misbegotten idea? What had he or she been doing the night before? How did the committee come to pick this one? What, in God's name, were the other ideas?
Now the Korean War was a hell of a bad idea, and the soldiers who died there died very much in vain, I think. But they certainly deserve better than to be remembered with the title of a pop song and represented as a void — a lumpish, badly-drawn void at that.