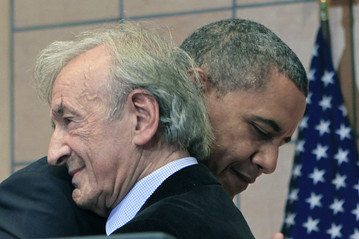 So that awful old humbug, Elie Wiesel, has at last gone to his long account. Old-time readers here will know that I am superstitious about death and don't like to say I'm glad that anybody died, no matter who. I can stop at the brink even with old Elie, but only just. What an insufferable Uriah Heep he was. There was never even anything remotely likable about him. That mantle of high seriousness in which he muffled himself never, so far as I am aware, slipped by so much as a micron, even for a microsecond.
Naturally he was the mass murderer's favorite Voice Of Conscience. So far I note that Bibi Netanyahu, Barack Obama, Hilary Clinton, Abe Foxman — I find that Wiesel once received, no kidding, the Jabotinsky Award from Foxman's ADL — Madeleine Albright, Ron Lauder, and assorted celebrities and other white trash, like George Clooney and Bill Gates, have weighed in with effusive praise. Of course he was also a Nobel Peace Prize recipient — always a very bad sign — along with Teddy Roosevelt, Woodrow Wilson, Menachem Begin, Henry Kissinger, and Barack Obama, the last-named having been given the award simply for having been elected President.
Speaking of Kissinger, I haven't yet heard what he has had to say about the late smarmster, but I can wait. Ditto for Sheldon Adelson and Haim Saban. Somebody wake me when it's over.
One thing I discovered, amid the saponaceous deluge of posthumous praise, and hadn't previously known, was that the old hypocrite was an ardent advocate of Clinton I's balkan War. Can't say I'm surprised.
It's a kind of fun parlor game imagining how, if one were Rhadamanthus, one would deal with people like this on the Other Side. The trick is to let the punishment fit the crime, without being too sadistic. Away with the Dantesque boiling pitch; let's be more subtle. I think my sentence for Wiesel would be to lock him up in a seminar room with the late, and also unlamented, Saul Bellow, and let them bore each other for a millennium or so.