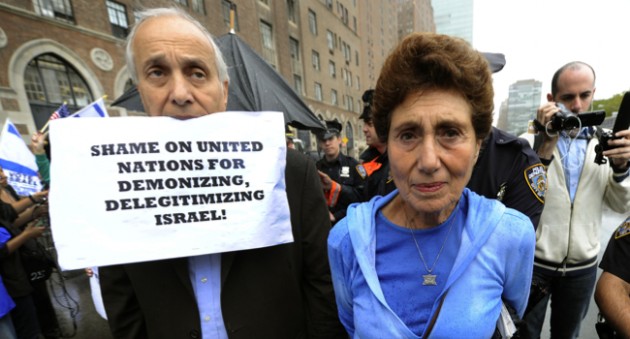 We've all heard the "singling out" argument, right? — As in, "Why single out Israel? What about the Tadjiks?!"
Of course nobody is asking about the Tadjiks any more. These days, anti-singler-outers are more likely to redirect your attention to Syria, where Assad is, purportedly, a much worse mass murderer than Netanyahu & Co.
Curiously, the Hasbara Manual doesn't contain any reference to the single-out argument. I wonder why the manual left it out? Does it concede too much? Yes, Israel is a genocidal apartheid state, but it could always be worse. Not a terribly strong defense, when you come to think about it.
Then too the single-out defense is generally the setup for an anti-Semite gambit: Since Syria is worse than Israel, supposedly, the fact that you are talking about Israel instead of Syria can only mean that you're an anti-Semite. Now the Manual soft-pedals this approach; its authors are happy to call the Palestinians anti-Semites but seem to feel that it may not be good hasbara to call your interlocutor an anti-Semite. Which is very intelligent on their part, if the goal is to convince your interlocutor rather than silence him. It's strategically sound to try persuasion first, and fall back on silencing only if persuasion fails. Defence in depth. Even Steven Salaita wasn't accused of anti-Semitism, just incivility — of which he was certainly guilty, bless him. Quite right too.
With or without the manual's advice, one hears the argument a lot, mostly from otherwise intelligent and humane friends who happen to be still soft on Israel, for whatever reason, rather than from professional hasbarists. I think these good people go to silencing first simply because they want a quiet life — and also, perhaps, because they know persuasion won't work. They realize that Israel is obviously a very sketchy proposition, but they have some history, or personal ties, or it would just be very bad for one's back to be knocked off a horse on the road to Damascus. So can't we talk about something pleasant?